How?
That's the question I frequently have while reading a story about some really fascinating process or opportunity. I get to the end and I'm like, "Wait—how do I do this, too?"
To that end, I bring you today's dispatch.
You see, recently I got an email from Jon, who wrote: 
I am just starting to research NFTs … Will you be telling us more about how to research and find/buy NFTs?
Frankly, I've received probably a dozen different letters that all asked some version of that same questio
And it's a great question on several levels. It recognizes the explosive opportunities in non-fungible tokens, and it acknowledges the fact that doing your research in this new and rapidly emerging corner of crypto is not nearly as easy as researching, say, a publicly traded company.
However, doing that research can generate big—big!—profits.
As I noted in a past column, I turned $128 into around $5,200 (a gain of 4,100%) on an NFT purchase that I held for about a week.
So, today and tomorrow, I'm bringing you a special two-part series on "How to research and buy NFTs."
First, NFTs are unique, one-off crypto tokens. They are used to represent ownership of digital assets…anything from art to music to a ticket that provides entry to a website.
Right now, they're all over the digital art world and they're booming. Lots of people are snapping up NFTs for a couple hundred dollars (or even less) that, in turn, sell for tens or even hundreds of thousands of dollars.
Thing is, there are a ton of NFTs floating around these days. Check out NFT marketplaces such as Magic Eden, Solanart, OpenSea, and others and you will be awash in way too many projects to contemplate.
Many of these NFTs will never be worth much or will continually fall in value. However, some have exploded in value and will retain that value, if not rise sharply.
With that in mind, here's how I conduct my research and separate the wheat from the chaff in the NFT world:
Get to know the marketplaces
Those markets I mentioned above typically highlight upcoming projects. That's a very good starting place to see what's coming down the pike.
Scroll through the website HowRare.is
This site catalogs, by day, a list of known NFT "mints" (also called "drops") that are scheduled.
Minting is the process by which new NFTs are created. When a new NFT project is launched, you can "mint" the NFTs it has to offer and be among the first owners. It's like participating in an initial public offering for a stock.
I tend to scan the list on HowRare, looking for projects that will mint less than 10,000 NFTs, or projects that I think might be of interest, even if they are slightly larger than 10,000.
And then I start my homework.
First things first: Click on the Twitter link (assuming there is one) and look at the art. If I hate the art or think that it's blah, dull, derivative, etc.—easily 95% of what I see—I move on. There are exceptions here, if the NFT has some additional benefits or functionality. (I'll discuss this in greater detail tomorrow.)
If I like the art, I start my real research. To do that, you need to…
Join Discord
This is a social-media site—basically, a chat app—that has become a must-visit location for anyone interested in crypto, from networks/currencies such as Solana or Cardano, to NFTs like the one that generated my nice $5,200 payday.
Each project has its own channel, where members of that community, as well as the founders/team discuss the project. Often, founders will hold live AMA, or "ask me anything," events in which they give community members the opportunity to pose questions about the project.
Through Discord, you can find the details about projects that are minting NFTs, when they're minting, how many NFTs will be minted, the cost, the link to the minting site, which currency you need to use (typically Solana or Ethereum), and whether you need to be on the whitelist to mint or if it's open to anyone.
People on the whitelist often have an advantage over the public in that they are guaranteed the ability to mint at least one NFT, and they usually get to mint at a slightly lower price, though that is not universal. But even those who mint at public prices can do well.
My son recently minted two NFTs from Cyberpunk Districts when it was well into its minting process. He paid 0.5 Solana (about $110) to mint art that looks like this …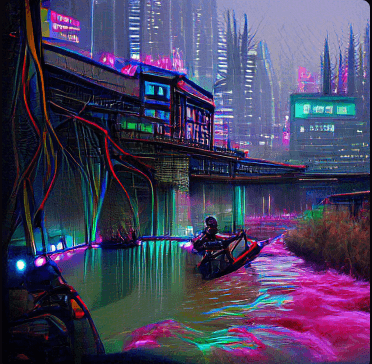 …and which he turned around and immediately sold for 5 SOL each (a total of $2,200). The two he sold then resold at 13 and 15 SOL.
Finally…
4. Read the whitepaper and the roadmap
Potentially good projects will have a website where you will find the whitepaper (or lite paper) that explains what this project is all about. They will also typical have a link to the roadmap so that you can see where this project is in its development, and where it aims to go.
All of this is vital information to help you determine whether you think a project is potentially a worthy investment.
Just keep one fact in mind: Do not judge an NFT solely by its art.
I minted a Shadowy Super Coder for 2.5 Solana (about $575) and it's just a fairly basic picture. This: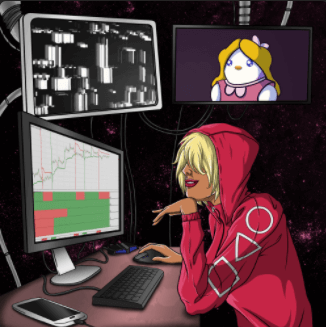 But it's now worth 30 to 40 SOL (upwards of $6,000) because of the underlying utility of that NFT. Owning it, in fact, guarantees you a wallet full of free, potentially highly lucrative crypto.
And that's where we will pick up tomorrow…
Not signed up to Jeff's Field Notes?
Sign up for FREE by entering your email in the box below and you'll get his latest insights and analysis delivered direct to your inbox every day (you can unsubscribe at any time). Plus, when you sign up now, you'll receive a FREE report and bonus video on how to get a second passport. Simply enter your email below to get started.