My $7,700 Profit From Trading NFTs
I just gotta say: That was a helluva weekend.
Totally unexpected.
I made more than $7,700.
But let me back up and explain…
I've been writing to you about non-fungible tokens for several months now. These NFTs, as they're called, are one-off, one-of-a-kind cryptocurrencies.
Every bitcoin is identical to every other—every NFT is totally unique. So, they can be used to represent ownership of a unique asset, like an artwork, or a piece of music, or even a real-world house.
NFTs are all the rage in the art world, and now they're taking off in gaming and elsewhere, as I've noted in a recent column or two.
Well, I've been dabbling in the NFT space, so I can figure out how it all works and share my research with you.
And this week, two of the NFTs I bought paid huge dividends, so to speak…
I'm going to tell you about each of the NFT projects I bought into over this dispatch and the next one, since they're both quite different approaches to the idea of NFTs. I think they offer some insight into the NFT space in terms of where we're headed as a society.
But first…my usual caveat: None of what I'm about to share should be considered investment advice. Fact is, you can no longer participate in either of these NFT projects directly; they both sold out within hours of their launch. And while you can buy into them on the secondary market, the cost now is quite pricey.
Moreover, as I always emphasize, there are risks to owning crypto. You must absolutely be OK with the wild volatility that can and will happen. If seeing the value of your investment decline by 60% or more is going to cause you angst, stay away from any crypto other than stablecoins that shadow the U.S. dollar and where you can grab interest rates of as much as 12.68% these days.
Instead, I'm sharing my weekend $7,700 haul with you because I want you to see the real results—and the real opportunities—that NFTs can represent. They can quite literally mint money. And, frankly, the good fortune I had is just the pinkie tip of a mountain-sized iceberg.
Today's story: SOLgods
This is an NFT metaverse project taking shape on Solana, an increasingly popular crypto network that competes with Ethereum. (A metaverse is a digital reality that combines aspects of social media, online gaming, augmented reality, and virtual reality.)
SOLgods is based on the surreal, ethereal, somewhat creepy artwork of a metaphysical, Italian artist named Giorgio de Chirico, who died more than 40 years ago.
I bought into the project for two reasons:
Love the art.
I like the project roadmap the envisions sharing profits from the metaverse with those who own the NFTs.
When the project launched on Oct. 28, it "minted," or created, 6,666 NFTs. These were randomly assigned to people who bought in. I purchased three. Below is one of my trio.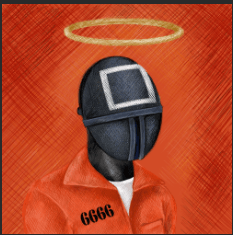 Every NFT minted in most of these types of projects has a rarity factor—where it ranks among all others in the minting. I got lucky in that I minted a fairly rare SOLgod (so there is an aspect of luck to investing in NFTs).
If you know the Netflix global phenomenon that is Squid Game, you'll recognize that mask with the white square. It's one of the two rarest traits in the SOLgods universe—just 0.38% of all SOLgods (about 250) wear that mask.
That makes is desirable to those who want to own rarer NFTs for the potential investment value over time.
I paid for this artwork using the Solana cryptocurrency. It cost me 0.666 Solana, or the equivalent of $127.52 when I bought my Solana at $191 per token the day before SOLgods minted.
Last Saturday—nine days later—I sold this SOLgod on an NFT marketplace for 23 Solana, when Solana was trading near $250.
My profit, after marketplace fees: more than $5,200—a nearly 4,000% gain in just over a week.
Plus, I still have two more SOLgods (less rare) that I can hold onto to participate in the SOLgod metaverse.
I know that all this can be challenging to grasp. My friend Jim doesn't get it. He thought I was an absolute idiot for spending $127 on that NFT.
I understand why—this is beyond the brave new world. This is a befuddling new universe, where rules and opportunities look nothing like anything you and I grew up with.
But as I continually say: We have to look at what's taking shape through the eyes of the generations below us, particularly millennials and Gen Z.
They don't care about what we care about. Worse, they've been railroaded by an economy and a financial system that politicians have rigged and destroyed.
As such, they're turning to a system they do trust—technology, and in particular the blockchain, the public ledger on which crypto is built, because it's transparent.
I simply refuse to be a fuddy-duddy who arrogantly dismisses what millennials and Gen Zers are doing. I'd rather learn from them and alongside them, and participate in the new wealth-creation revolution they're fomenting.
And if that means owning a $127 NFT of a creepy dude in a Squid Game mask, based on the metaphysical leanings of a dead Italian artist…then that's where I'm putting my money to work.
Tomorrow, I'll tell you how I made the other $2,500 in NFT profits over the weekend…and about an NFT that very well could earn me more than half a million dollars.
And that's not marketing hype.
I'll tell you all about it tomorrow.
Not signed up to Jeff's Field Notes?
Sign up for FREE by entering your email in the box below and you'll get his latest insights and analysis delivered direct to your inbox every day (you can unsubscribe at any time). Plus, when you sign up now, you'll receive a FREE report and bonus video on how to get a second passport. Simply enter your email below to get started.