Today, we're going to school…
I've had a number of readers reach out to me, wanting to understand the exact process for buying a non-fungible token (NFT) that generates a passive income.
So, in this column and the one tomorrow, I'm going to share how this process works.
NFTs, as I regularly note, are one-off, one-of-a-kind crypto projects that can represent anything from digital art to online access for a ring-fenced website.
In recent months, I've been buying NFTs that generate passive income. And right now is a particularly interesting moment to seek these out for a few reasons:
Inflation. It's here and it's not going away. I'm eager for any opportunity I can find to pocket additional income, particularly if I don't have to work for it.
Crypto prices have tumbled over the last few days and weeks. That means I can buy on the cheap the currency I need to complete my NFT transactions. In this case, that's a cryptocurrency known as Solana.
NFTs with income utility are actually holding up well. Even as crypto prices fell, specific NFTs have held their value or even increased in value in dollar terms. The reason goes back to point 1: Inflation. It seems income-based NFTs are doing well in an inflationary world where so many people are seeking passive income.
So, if you've been thinking about exploring income-based NFTs, this is an opportune moment to wade into this space.
Now, to be clear, I am not recommending you rush out and buy the NFT I'm going to mention. In the time it took me to write this, the NFT I'm using as an example has more than tripled in value. (I mention some new projects below that you can research. And, as always, NFTs are a risky, emerging asset class, so only invest what you can afford to lose.)
That said, let's start the lesson…
Last week, I bought into an NFT project called Sea Shanties. It looks like this: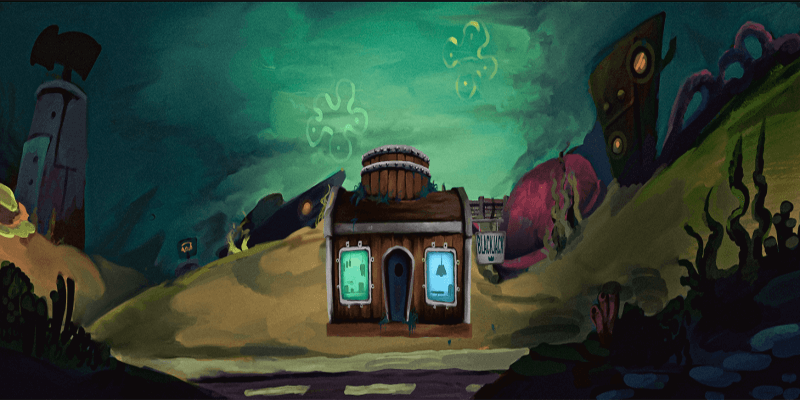 The Shanties team is building out an underwater-themed ecosystem centered around a bank (Shill City Capital), a mortgage company in which NFT owners can borrow real money against the value of their NFT (Shill City Mortgage), and a few other financial-related projects.
In return for owning one of the 3,333 Shanties that exist, an owner collects 6.9 Triton tokens per day ($TRTN). Triton is a brand-new cryptocurrency launched in conjunction with Sea Shanties to power this underwater financial ecosystem.
As I write this, each $TRTN is worth about $1.03, meaning each Shanty is spinning out about $7.11 per day, or $207 per month. I own three Shanties, so at current prices that would imply monthly income of $620, or thereabouts.
$TRTN can certainly fluctuate in value, and certainly will, so I am not necessarily counting on a constant $620 per month—it could be higher; could be lower. But at the moment, that's the math.
The team has pre-funded the first several months of payouts, which they've verified by posting a link to the transaction on the blockchain (the immutable ledger technology on which all cryptocurrencies are built).
Revenue necessary to keep the project self-sustaining is based on a plausible roadmap tied to the bank, the mortgage company, and the other projects that the team has laid out.
I've road-tested the process of converting $TRTN into USDC, a stablecoin that tightly shadows the U.S. dollar. I converted a few days' worth of $TRTN distributions into $93 that landed in my crypto wallet immediately. The process was quick and intuitive. So, you really can earn real money by owning this NFT.
I paid 1 Solana for each Shanty at a time when Solana was about $131. All in, then, I spent just under $400 for my three Shanties.
As I write this, Shanties are selling on a secondary market called Magic Eden for about 14 Solana each. With Solana in the $90 range, that's about $1,260 per Shanty. Even at that price, you'd earn your investment back in just over six months from the $TRTN payments. (That assumes a static $200 per month in income, which is by no means guaranteed). Everything after that is free money.
This is the power of passive income in the NFT economy.
Tomorrow, I'm going to continue this column and tell you how you could buy an income-generating NFT like a Sea Shanty on the secondary market, if you wanted to.
But first, I'll return to my wider point: Now is an excellent time to explore the NFT space.
Sea Shanties has run up in price, to be sure. So, if you want to get in on the ground floor of a new project, I'd suggest you take a look at Heaven Land and The Fellowship.
The first is metaverse-related NFT (a parcel of land inside a new online world) that will ultimately provide an income source.
The second is a pure utility play, meaning the NFT is more about the services it offers—in this case a plug-n-play suite of tools that allows anyone, any business, any group to design and mint their own NFTs without any skill set. Think of it as Canva for NFTs (it's going to a huge market).
Fellowship mints on Feb. 1 for 2 Solana ($180, as I write this), while Heaven Land on Feb. 2 for 2.5 Solana ($225).
I'm early in my research on those two, so those are not recommendations. But they are a good place to start if you want to try minting an NFT that I think could prove to be a quality project.
Note: You will need to join each project's Discord channel (a social media site) so that you can obtain the minting website when it is posted just an hour or so before the minting process begins. It will be posted in the Announcements channel for each project on Discord. You can learn more about Heaven Land here, and Fellowship here. These websites contain links to their respective Discord channels. (You can also read my two-part series on how to invest in NFTs here and here.)
Join me again tomorrow and I'll talk you through the process of buying an NFT.
Not signed up to Jeff's Field Notes?
Sign up for FREE by entering your email in the box below and you'll get his latest insights and analysis delivered direct to your inbox every day (you can unsubscribe at any time). Plus, when you sign up now, you'll receive a FREE report and bonus video on how to get a second passport. Simply enter your email below to get started.