Plus Jamie Dimon Grovels Before China
Welcome to your Sunday digest…my weekly breakdown of the things we're thinking about and talking about in the Global Intelligence world.
This week's digest comes with a touch of festive cheer…and disappointment.
Winter has descended here in Prague and for the first time since 2019, the city's Christmas markets were open and bustling. I simply adore these scenes.
Don't get me wrong. Prague is breathtakingly beautiful in summer. But somehow this time of year feels like the city's natural state. There's something uniquely comforting about enjoying a cup of mulled wine in a Christmas market on a cold Prague day.
Alas, COVID, the microscopic beast that keeps on giving, is back. The markets were open just a few days before government stepped in and shut them down. Still, in that short time, I managed to load up on gingerbread to tide me over. Here's hoping the markets might reopen again before Christmas arrives.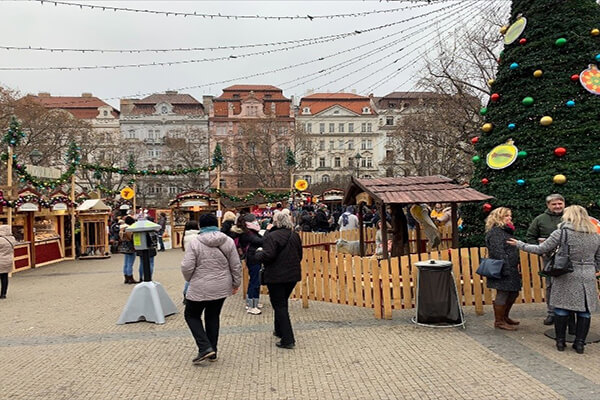 With those ramblings out of the way, on to our first news item for today—India moves to ban crypto…maybe.
This week, we learned that India's government is proposing legislation to ban all private cryptocurrencies.
This legislation is still in the very early stages and nothing has been confirmed yet. Indeed, there has already been speculation that the country may soften its stance and regulate rather than outright ban private cryptos.
What's clear, however, is why India is considering this ban: It doesn't like competition.
The South Asian nation is planning to launch its own sovereign digital currency based on the same technology as bitcoin and all other cryptos…and it doesn't want the private crypto market to go mainstream before it can roll out this digital rupee. (This is ostensibly the same reason China banned crypto earlier in the year.)
Out of the 1.4 billion people in India, about 190 million don't have bank accounts at all. That means it has the second-largest unbanked population in the world after China. Moreover, hundreds of millions more have very limited interaction with mainstream financial services.
If all those people moved into crypto, the Indian government could lose significant power over its own economy, so it's acting first.
That said, I would be surprised if India bans crypto outright. India is quite active in crypto, not just trading and owning it, but in terms of crypto companies that are launching there. I mean, India is a tech-savvy country, and a ban would kneecap a golden goose. Seems counter-productive to me.
Tough regulation of crypto seems likely, but cutting the country from crypto entirely, as China has done, would be a significant economic error. Crypto is the future of finance and regulating it is the clear path forward.
***
Next up, Jamie Dimon commits the ultimate economic faux pas.
Question: You're head of a major international corporation. Your business touches every corner of the globe. What's the worst mistake you can make, financially speaking?
Answer: Insult China's Communist Party.
As you probably know, China's communist overlords have precisely zero chill. Insult them, even in a split-second, off-the-cuff remark, and they're liable to completely destroy your business operations in their country…now the world's second-largest economy.
Enter Dimon, the head of JPMorgan, who said this at an event in Boston this week:
"I was just in Hong Kong and I made a joke that the Communist Party is celebrating its hundredth year. So is JPMorgan. I'd make you a bet we last longer."
He then added: "I can't say that in China. They probably are listening anyway."
I think I can still hear the screams of JPMorgan's PR team, many of whom I used to know and call on a weekly basis. Of course, afterward Dimon did what all Western business leaders do when they make a quip about China…he got down on his hands and knees and begged forgiveness.
Here's one of several groveling apologies he released:
"I regret my recent comment because it's never right to joke about or denigrate any group of people, whether it's a country, its leadership, or any part of a society and culture."
At this time, we interrupt our previously scheduled programming for a quick rant.
Western companies have to move past this "bowing down" to any country—not just China. (I'm looking at you, Google, Apple, Facebook, et al.) Plus, this apology doesn't make any sense. Dimon says it's never right to denigrate a country's leadership. Sorry, what? So, denigrating the Soviet leadership of the mid-20th century was wrong? Or the Nazis? Or Saddam Hussein's Baath Party? Really?
Also, Dimon could very well be right in his original comments. JPMorgan really could outlast the Communist Party. Sure, China's supreme leader, Xi Jinping, enjoys total control over the country today. But such tight control over a country so vast and so increasingly rich is a tenuous business. It's hard to predict what China will look like a decade or two from now. It would be nice to see Dimon laugh off his comments, rather than bend over backwards for a totalitarian regime.
Rant over.
Anyhow, on this occasion, Dimon got lucky. China's financial sector is shaky at the moment due to the massive indebtedness of some of its biggest real estate firms. So, it seems China's leaders have decided to let this one slide.
Other business leaders have been less fortunate. That's a problem because I despise all the censorship I see in the world today—whether it's political, or whether it's YouTube and Facebook clutching their pearls because someone says something the wrong way. (By the way, this is one more reason Facebook and YouTube are "dead man walking." Censorship-resistance, crypto-based social media is going to replace the whole lot of centralized, censorship-heavy social media giants that exist today. Mark my words on that.)
I lied…now the rant is over.
***
Finally, this week El Salvador plans to release bitcoin bonds.
Earlier this year, El Salvador adopted bitcoin as one of its two legal currencies, alongside the U.S. dollar. This made it the first country in the world to embrace a cryptocurrency as legal tender.
Then this week we learned that the country next year plans to issue $1 billion in bonds backed by bitcoin. These would be 10-year bonds with an annual interest rate of 6.5%.
Half of the $1 billion that El Salvador hopes to raise would be used to buy bitcoin to hold for five years. The rest would go to bitcoin-related infrastructure projects, including a new "Bitcoin City" that will have no taxes on income, property, and capital gains.
What's interesting is that anyone will be able to buy this bond. The bond allows purchases in units of $100, using bitcoin or a crypto called Tether, which tracks the U.S. dollar 1:1. My guess is that it sells out. (And if I can figure out how to get in on it, I will—just for the experience and the experiment.)
This is a high-risk, high-reward plan for El Salvador. If bitcoin rises in price after the bond sale, the country will do incredibly well out of it. However, if the price of bitcoin collapses in the years ahead, it could place the country in significant financial jeopardy.
Either way, this is a fascinating experiment. Essentially, this is a developing nation doing an end-run around the traditional financial system and raising development funding directly from ordinary investors in the cryptoconomy.
Nothing like this has ever happened before. So, I'll be following events closely to see how it turns out.
That brings us to the end of this week's digest. Many thanks for being a subscriber. And if you have any feedback or questions, please reach out through the contact form on the Global Intelligence website. I'd love to hear from you.
Enjoy the rest of your Sunday.
Not signed up to Jeff's Field Notes?
Sign up for FREE by entering your email in the box below and you'll get his latest insights and analysis delivered direct to your inbox every day (you can unsubscribe at any time). Plus, when you sign up now, you'll receive a FREE report and bonus video on how to get a second passport. Simply enter your email below to get started.