When I lived in California back in 2017, I decided to build a cryptocurrency mining rig, a computer that solves complex math problems to find new pieces of a cryptocurrency.
I wanted to know what the process was like so that I could better understand the emerging crypto universe. Ultimately, I ended up with four mining rigs.
Smash cut to Prague 2021…
When I left Los Angeles in 2018 for a new life in Europe, I opted to sell all my computer parts rather than ship them to the Czech Republic. But I missed mining.
So, back in February, I decided to get back into it. I did so because I am convinced that Ethereum (ETH)—the world's No. 2 cryptocurrency after bitcoin, and the one I mine—is going to reach price levels that only the addled would dare utter out loud. If this missive were a screenplay, I'd write it this way…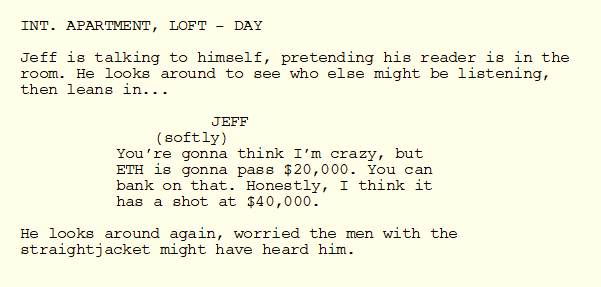 Right now, Ethereum is in the $2,300 range. I want to mine it while I can at these low prices.
So, I built a new mining rig a few weeks ago. Below is the video.
So, that's a mining rig. And here's a screen capture of what my rig was earning three or four days into the process:

At this level, the rig was earning about $40 a week, or $160 a month. That fluctuates based on various factors and has ranged between $24 and $60 per week. Then again, I took that snapshot when Ethereum was in the $1,600 range.
Today, it's around $2,300, as I noted a moment ago.
Also, at the time I took that screenshot, I had just one graphics card, the hardware that makes mining possible. These cards process gazillions of equations per second, trying to work out complex, numerical puzzles that unlock slivers of Ethereum on the Ethereum network. And those cards are increasingly impossible to find new—everywhere in the world is pretty much sold out.
Prices for them are soaring.
The first card I bought— secondhand from Germany—cost me about $575 on Feb. 24.
Today, that same card—again, used—is $900 to $1,100 on eBay, not even two months later. Just shows you how demand is soaring.
Still, I've managed to find a few more of these cards.
Now I have three cards running instead of just one, so my expected weekly earnings bounce around between about $60 and $108. Soon, I will add a fourth card.
To be clear, this isn't passive income I withdraw. I am stockpiling the ETH I mine for a much bigger payout later.
If I'm right—if Ethereum sees $20,000 or more—the ETH I mine today will be worth 10 times as much, and my expected weekly earnings will soar to between $500 and more than $1,000.
Not signed up to Jeff's Field Notes?
Sign up for FREE by entering your email in the box below and you'll get his latest insights and analysis delivered direct to your inbox every day (you can unsubscribe at any time). Plus, when you sign up now, you'll receive a FREE report and bonus video on how to get a second passport. Simply enter your email below to get started.