These Returns Are Out of This World
Maybe I'll change my name to Han Solo.
Why?
Because I bought a spaceship.
A real beater—kinda like Han Solo's Millennium Falcon. Here's a picture of my baby…
Officially, she's known as a Fimbul BYOS Earp. I just call her Alice. Looks like an Alice to me.
To clarify, this is a spaceship in a blockchain-based game called Star Atlas. I own it because that picture you're looking at pays me a return of 10.84% per month.
Yes…per month!
But I'll come back to that in a moment.
Online gaming is huge! Last estimate I saw from 2020 indicated that 2.77 billion gamers exist in the world. They span an age range that starts under 10 and exceeds 80. Combined, they spent an estimated $159 billion last year on everything from idle, smartphone-based gaming apps, to what's known as "massively multiplayer online role-playing games."
That's a massive industry and I want to be a part of that.
Not as a gamer, mind you…as an investor.
It used to be that all the money you spent on a video game or on in-game purchases went to the video-game maker, like Sony or Atari or Activision.
Today, in the decentralized world of blockchain (the technology that powers bitcoin and Ethereum), we—investors—can own the in-game assets and get paid every time a player spends money to continue gaming.
Take, for instance, Robert Doyle. He bought a digital gas station in an online game called Polkacity, which is similar to the globally popular action/adventure driving game, Grand Theft Auto. The game is set up so that players get one hour of free drive time. After that, they have to buy digital gas. As the owner of a gas station in Polkacity, Doyle shares in the proceeds.
To such a degree that Doyle is earning $16,000.
Per month.
Which is why I bought Alice…
Alice is one of several types of ships that exist in Star Atlas, an as-yet-unreleased game that will take place in a Star Wars-like online world.
My expectation is that Star Atlas is going to a global blockbuster. When you have a couple of minutes, Google "Star Atlas Trailer." The graphics are as lifelike as you can imagine—as though a Hollywood computer graphics department built a video game. Just crazy how real the world of Star Atlas looks.
The game is based on a mining economy, in which you battle for the right to control and mine resources around the universe that you can then sell for in-game crypto known as ATLAS.
You can convert that crypto into fiat currency—i.e., the dollar—making Star Atlas one of the new breed of play-to-earn games that generate real, passive income for gamers and investors.
When the game launches, players/investors will be able to own ships, crews, land on various planets, and mine resources. So far, only ships have been released. They range from small racers that sell for about $20…to a $99,500 biome that is basically a floating city.
My Alice cost me $895, or about 8,500 ATLAS tokens when I bought her late last month.
When Star Atlas is up and running, I will be able to lease Alice to gamers who can't afford to buy their own ship (Fimbul BYOS Earps like my Alice are now trading for just over $1,000).
In the meantime, however, I am able to "stake" Alice to earn ATLAS tokens. This is essentially a mini-game to keep fans engaged while the team builds out the universe. By staking, I am basically putting my ship to use earning ATLAS tokens, even though the ship right now isn't really doing anything.
Every 24 hours, Alice earns 36.995 ATLAS tokens. That's about 1,110 ATLAS per month, or $120 based on the current ATLAS price (the $120 will rise or fall depending on the price of ATLAS, which has bounced around between $0.08 and $0.20). I can claim my tokens whenever I want, and they land in my crypto wallet. I can then convert them to US Dollar Coin, a so-called stablecoin that shadows the U.S. dollar, or pretty much any other crypto I want.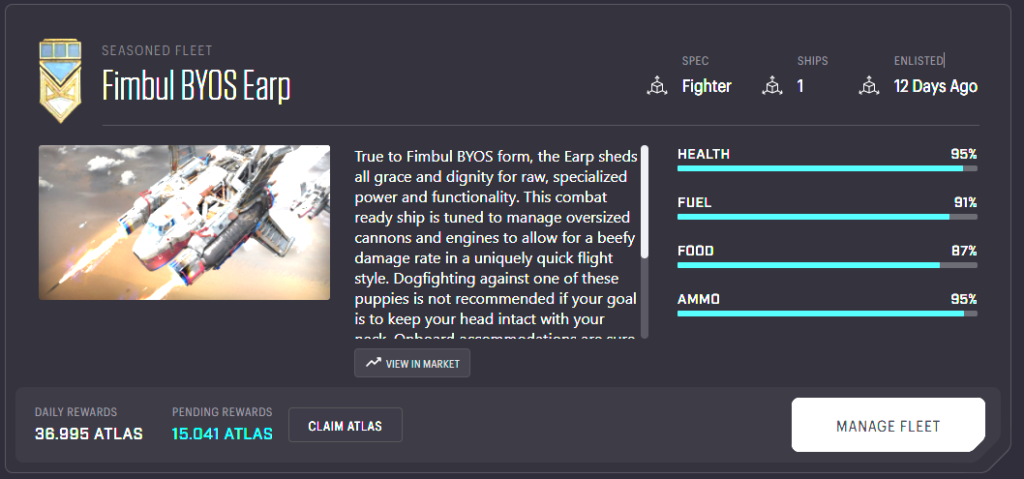 From that 36.995 daily payout, I have to pay (using ATLAS) to resupply the ship regularly with food, fuel, and ammunition. And I have to pay maintenance costs because, apparently, space can be very unforgiving on a digital spaceship.
In all, I am clearing about 895 ATLAS per month, or about $97.
Based on my purchase price, that's a 10.84% monthly return—130% per year.
Alice will pay for herself in less than 10 months, and after that she just spits out free money.
Granted, $97 isn't going to change my life. But that's not really the point.
I want to own multiple streams of passive income that all add up to a meaningful sum. This is just one of those streams, tied to the one of the fastest-growing economic segments (online gaming) and tied to what I believe is going to be a blockbuster game globally.
I mean, I could have put that $895 into a high-yield savings account (the best rate you can get is 0.6% per year) and I'd have earned a whopping $0.45 per month, meaning it would take me nearly four years to amass $97.
Or I could invest it in a digital spaceship and boldly go into the future I know we're heading toward.
Believe me, I know how crazy this sounds, but sometimes investing in a digital spaceship really does make a lot more sense than investing in a savings account or certificate of deposit.
Featured image: ©iStock/loops7
Not signed up to Jeff's Field Notes?
Sign up for FREE by entering your email in the box below and you'll get his latest insights and analysis delivered direct to your inbox every day (you can unsubscribe at any time). Plus, when you sign up now, you'll receive a FREE report and bonus video on how to get a second passport. Simply enter your email below to get started.